By Jo Varney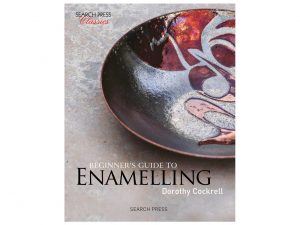 Beginner's Guide to Enamelling by Dorothy Cockrell – 999 A182
Search Press specialise in producing practical art and craft books suitable for all skill levels. Their simplistic but thorough approach is ideal for beginners but also useful for those with more experience and the Beginners Guide to Enamelling falls nicely into that category.
Written by Dorothy Cockrell, an experienced teacher and craftsperson, this is quite a concise guide (64 pages) yet manages to pack in many different techniques, along with basic, more general advice on safety and equipment. Split into 22 chapters, subjects covered include: drawing with sifted enamel, stencilling, using rubber stamps, crazy paving, wet laying enamel, using gold and silver leaf, Raku Firing and working on curved surfaces (which is something I've wondered about I must be honest!) so as you can see, a lot is packed in.
The book follows a logical progression throughout, starting with equipment and safety and then moving onto basic techniques. You then have a series of projects which increase in complexity as you move through allowing your knowledge to build as you work. There is a simple troubleshooting page at the end should you encounter any problems.
From the outset Ms Cockrell's writing style and advice is wonderfully down to earth and what I would describe as 'friendly'.  She has a very practical and honest delivery, making the subject fully accessible and more importantly, achievable making it far less intimidating.
"Many enamellers work in the garden shed, garage or spare room. Enamelling can be done on the end of the kitchen table with the kiln sitting on top of the stove. Just remember that enamel is powdered glass, so it is not advisable to cook dinner at the same time." Dorothy Cockrell.
There are also many short cuts and money saving tips given right the way through the text. Set up costs can often be quite high when trying a new technique so ways to minimise the initial outlay can be of great benefit. For example; the author recommends using pre-cut copper shapes which saves money but also eliminates tricky saw piercing from the equation for anyone not proficient in the technique. She also suggests using household items where possible rather than buying everything from new. This is all brilliant for de-mystifying enamelling as a subject.
"Look around for things that can be used as stencils. If an object has holes or an interesting edge and will lie flat, you can stencil with it. Kitchen utensils such as potato mashers, leaves, coarse lace, netting from fruit and torn damp newspaper are some ideas."
Full colour images are vital when describing a technique such as enamelling and this book doesn't disappoint, with an amazing 175 colour plates crammed into its 64 pages. Each project is photographed step by step along with clear and concise instructions, plus an equipment list to get you started, so you will always know what you need and what your item should look like.
I would recommend this book to anyone wanting to try enamelling, particularly if you have been put off in the past over the complexity or cost of the technique.