Are you a seasonal crafter? Or are you a small, jewellery business looking to expand on your current skill set?
Wherever you are in your jewellery making career, investing in yourself is an excellent way of ensuring your jewellery making skills develop, whether it's simply for some me time or you want to make waves in a new area of your business. Whatever the reason, signing up for some professional jewellery making courses will give you the skillset you need and the motivation you've been looking for to excel in your jewellery making career.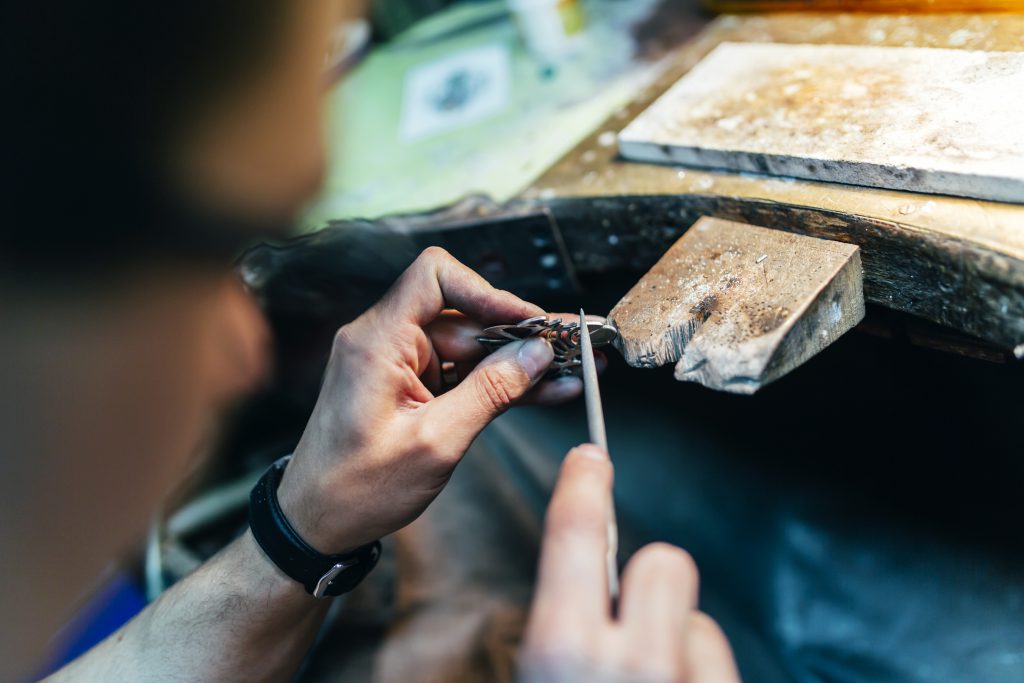 Here is just a sample of some of the best jewellery making courses across the UK, spanning from professional jewellery making courses and specialised silversmithing classes, to jewellery making classes for beginners and ambitious designers.
Jewellery Making Classes For Begginers
If you don't know your snipe nose pliers from your round nose pliers just yet, and you're very much starting out in the world of jewellery making, there are hundreds of jewellery making courses you could potentially choose from. Here are just a few of our favourite jewellery making classes for beginners:
Beginners' Silver Jewellery Making Course
Where: London Jewellery School
When: Classes run weekdays, evenings and weekends to suit all timetables. Just make sure you check the availability of classes before you set your heart on a specific date. These beginner silversmithing classes get booked up fast!
What to expect: A great option for beginners is the introduction to silversmithing. If you've never tried any form of soldering or, in fact, any kind of jewellery making before, it doesn't matter. Your course tutors are all experienced jewellers and will be able to guide you through every step of making your own silver ring and/or pendant. As each class size is fairly small, there's plenty of time for some one-on-one tuition, and you'll find that you can quickly get to grips with some basic silversmithing techniques such as sawing accurately, filing, polishing, and annealing your pieces.
Stone Setting & Enamelling For Beginners
Where: SilverHub Jewellery school, Edinburgh
When: Weekend short courses available on chosen dates across the year. Book online for the two day intensive course for beginners.
What to expect: If you've already tried a beginners' silver jewellery making course, a great option to look into would be stone setting. This intensive course provides you with professional jewellers as your guides throughout the course and all the materials and tools required are covered under the cost of the course. Depending on the course that you choose, you'll come away with more knowledge of basic stone setting techniques, how to enamel, and touch upon beginners' silver jewellery design – a great way to expand on your knowledge of beginner silversmithing.
Casting For Jewellery
Where: Richmond and Hillcroft Adult Community College (RHACC)
When: Spanning five weeks in June/July. Classes are held every Tuesday over the five weeks with different time slots to suit your schedule.
What to expect: This jewellery making workshop will provide you with an in depth look at silver casting techniques so that you can make your own rings, pendants or earrings. With all aspects of the casting process on the agenda you'll get to know the ins and outs of preparing moulds, making models with polymer clay, plus melting silver and casting it amongst other finishing techniques to leave you with professional skills that could be invaluable to your business. No previous experience or training is needed to apply to the course, but you will need to buy your own casting grain for use in your class.
Intermediate Jewellery Making Classes
If you're an established jewellery maker who already excels in silversmithing why not try something new? By adding a new skill to your repertoire, you'll be able to expand upon your signature pieces, expanding your jewellery business into a new area. Not to mention that dropping your tools and stepping away from your current studio into a new environment to share new ideas with people will help you boost your creativity. Here are just a few suggestions of intermediate jewellery making classes that may be worth investing in:
Resin For Jewellery
Where: London Jewellery Workshop
When: Held over two days in May
What to expect: New to using resin? You can expect to learn more about this nifty craft and add more colour to your existing work. If you've ever thought about adding images or objects to your jewellery pieces, resin is just the material to help you realise these ideas. The course will introduce you to the use of epoxy resin, including how to mix it and cure it, and how to add varying colours to your resin. Also included as part of the course is how to finish your resin pieces using polishing techniques as well as how to drill holes into the resin to add chains to pendants.
Professional Jewellery Making Courses
Jewellery and Silversmithing – Design For Industry BA (Hons)
Where: Birmingham City School of Jewellery
When: Starts September and runs for one-year, full time. Entry requirements for this full-time jewellery making course include HND or fdA in Jewellery and Silversmithing or equivalent experience in this area. You will also have to submit a portfolio of previous work to present your potential. This can be submitted digitally.
What to expect: If your goal is to work in the jewellery making industry and design your own work, this full-time course will give you all the skills required to get started in your jewellery making career. Exploring each area of industry design and what you can expect as a jewellery designer, you'll cover CAD software, laser cutting, create several of your own pieces for assessment, visit local exhibitions and trade fairs to gain a better understanding of the commercials of the jewellery industry.
If you need to invest in some jewellery tools as part of your university course, check out our university student jewellery tool kit that includes all the basic tools you'll need to get started, all enclosed in a handy tool box.
Horology BA (Hons)
Where: Birmingham City School of Jewellery
When: Starts September and runs for 3 years full time. Entry requirements for the course include, grades BBC at A Level or 112 UCAS points.
What to expect: This unique course will give you all the tools and skills you need to restore clocks and watches to a high standard, giving you an indispensable skill when it comes to getting a job in the industry. This jewellery making course combines traditional skills with technological advances in the industry. Expect in-depth classes on technical drawing, a theoretical look at how clocks work, and all the skills you'll need to repair clocks and watches at industry level.
Have you chosen your next jewellery design course yet? Whether you're a complete beginner or would like to foray into a new area of jewellery making, there are plenty of courses to help you expand on your current skill set and make more of your jewellery business.