Top rate customer service team are always happy to advise on products. Fast, efficient deliveries with a website which is easy to negotiate and secure payment. Oh and lastly..... Fantastic range of supplies for making jewellery.


Evelyn Duffus

I was recommended by a friend to try out Cookson gold, and so I did and what a great find it is too. I've now ordered twice in the space of three weeks, the items were even better than on the website. The delivery is exceptional, the packaging is more than adequate. Thank you Cookson gold, I am never going to buy from anywhere else!!


Carol white

Great service and much cheaper than in the shops. Got all of my order within 2 days. Chain much heavier than expected. Will be back


Graham L

News Article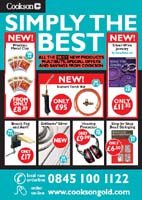 Simply The Best From Cookson
No small task, but Cookson have painstakingly searched through their 10,000 + product range to choose just 36 pages of their best selling jewellery supplies, findings,tools and presentation materials to go into their latest mini-catalogue, modestly entitled SIMPLY THE BEST.
With a carefully selected mixture of the best deals, best bargains and best quality products, Cookson reinforces their reputation as the UK's biggest one-stop-shop for jewellery supplies. Given the choice on offer, one would be hard-pressed to dispute the catalogue's name.
It contains information about Cookson's new tarnish resistant silver 'Brilliante', Range details for Platinum and Palladium Wedding Ring Blanks, Safety Equipment and Precious Metal Clays.
If you haven't received a copy of SIMPLY THE BEST, it is available by contacting Cookson on 0845 100 1122, visiting one of the Cookson Trade Counters or can be downloaded by clicking here.