Top rate customer service team are always happy to advise on products. Fast, efficient deliveries with a website which is easy to negotiate and secure payment. Oh and lastly..... Fantastic range of supplies for making jewellery.


Evelyn Duffus

I was recommended by a friend to try out Cookson gold, and so I did and what a great find it is too. I've now ordered twice in the space of three weeks, the items were even better than on the website. The delivery is exceptional, the packaging is more than adequate. Thank you Cookson gold, I am never going to buy from anywhere else!!


Carol white

Great service and much cheaper than in the shops. Got all of my order within 2 days. Chain much heavier than expected. Will be back


Graham L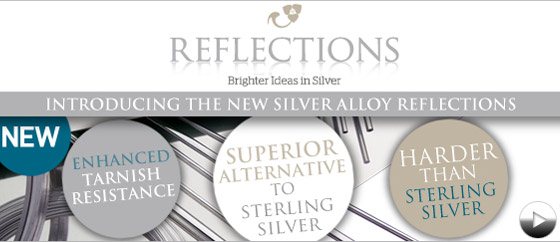 Can we tempt you with Reflections Silver?

Silver is a fabulous metal. We adore it for its sparkle, its beautiful looks, its workability...
…but we have now completed a long journey in search of a Silver alloy which is less prone to tarnishing and firescale, a Silver that is more workable and more durable then Sterling Silver. Cookson proudly stocks...
Reflections Silver

Reflections is a Silver alloy with all of the benefits and less of the drawbacks associated with ordinary Sterling Silver.

Its unique chemical composition, with less copper and increased tin, zinc and germanium, gives it superior tarnish-resistance.
Greater Firescale Resistance

The same composition also makes Reflections Silver more resistant to firescale, helping you reduce the oxidisation and stubborn thermal staining that can so easily ruin a piece of work.
Beautiful, Yet Tough

Softness isn't appealing in a piece of jewellery.

Reflections hardens more rapidly than Sterling Silver when cold worked, and with the application of heat, can be hardened to greater levels than is possible with Sterling Silver.
Versatile and Available Now

Who needs sensitivity? Reflections is remarkably tolerant to techniques that would trouble some more delicate Silver alloys, with excellent working characteristics over a broad range of processes and easy to finish.

Cookson has stocks of Reflections for immediate delivery. Click here to view our full range.

Excited by Reflections?

Try it for yourself and never look the same way at Sterling Silver again.

Click here to shop our NEW range of Reflections Silver including Sheet, Wire, Loose Chain, Findings, Grain and Finished Chain.
Want to Learn More?

Access the Reflections Technical Centre for more information including datasheets and guidance. Alternatively, access the PDFs direct from the links below:
Hardness, Durability & Heat Hardening of Reflections Silver
Investment Casting with Reflections Silver
Properties of Reflections Silver
Working with Reflections Silver
Physical Properties - Reflections Silver