Thank you for such amazing service. I ordered my beads yesterday and they arrived this morning, beautifully and professionally packaged and presented. I am so impressed with the speed and quality of your goods and services, that I would not hesitate to recommend you. A breath of fresh air!


Lesley Spencer

Top rate customer service team are always happy to advise on products. Fast, efficient deliveries with a website which is easy to negotiate and secure payment. Oh and lastly..... Fantastic range of supplies for making jewellery.


Evelyn Duffus

I was recommended by a friend to try out Cookson gold, and so I did and what a great find it is too. I've now ordered twice in the space of three weeks, the items were even better than on the website. The delivery is exceptional, the packaging is more than adequate. Thank you Cookson gold, I am never going to buy from anywhere else!!


Carol white
NEW: Cooksongold Art Clay Classes

Have you always wanted to delve into the world of Art Clay?
Are you already using Art Clay and wish to build upon your existing skills?

Well now you can!
Cooksongold offers both taster classes and day master classes in a fun, friendly and relaxing environment.

Unleash your creativity and learn more about Art Clay!

We've just launched a range of Art Clay Silver classes in a range of locations - see below for more details.


Introduction to our Classes

Learn how to make your own unique jewellery designs in comfortable and welcoming surroundings, ensuring total enjoyment, in Art Clay Silver

The Classes are kept small, to guarantee each student has the right support and one-on-one attention they will need. The price includes use of tools, findings, tuition and the silver.
You can choose from either a taster workshops a day masterclass to unleash your creative flair. Whichever course you opt for, all our workshops give plenty of time to experiment with Art Clay and develop your technique. Every student will take away their piece, to both serve as a great memory of the day, and also to enjoy wearing- again and again!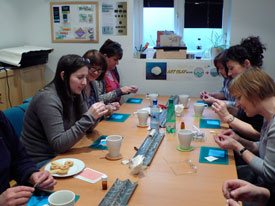 Art Clay Courses Available NOW
We've proud to announce the launch of the dates for the Art Clay Silver classes.

We offer a range of one day master classes to help you develop new skills.

These include:
Art Clay Experience Day
Sculptural Pendant
Vintage Inspired Charms

Our Art Clay classes are available in the following locations:
Click here to view our classes in Surrey
Click here to view our classes in Coventry
Click here to view our classes in Milton Keynes
Click here to view our classes in Leeds
Our Range of Art Clay

Click here to see our full Art Clay Range
Watch Our Clay Video here