Thank you for such amazing service. I ordered my beads yesterday and they arrived this morning, beautifully and professionally packaged and presented. I am so impressed with the speed and quality of your goods and services, that I would not hesitate to recommend you. A breath of fresh air!


Lesley Spencer

Top rate customer service team are always happy to advise on products. Fast, efficient deliveries with a website which is easy to negotiate and secure payment. Oh and lastly..... Fantastic range of supplies for making jewellery.


Evelyn Duffus

I was recommended by a friend to try out Cookson gold, and so I did and what a great find it is too. I've now ordered twice in the space of three weeks, the items were even better than on the website. The delivery is exceptional, the packaging is more than adequate. Thank you Cookson gold, I am never going to buy from anywhere else!!


Carol white

Click and Collect - Fast, free and convenient!
With cooksongold.com's new 'Click & Collect' service you can order online, and we'll have it ready for you to collect at our Birmingham or London trade counter in just two hours. This fast, free and convenient service allows you to select the collection date and time to suit you. Plus there's no minimum order with Click & Collect !
We'll reserve the products for you until the end of the following day, and you only pay when you come to collect it. When you do, we'll also answer any questions you may have to ensure that you get the most from your new purchases.
How to Click & Collect on cooksongold.com
Step 1
Simply add your products to the shopping basket as you would with any on-line purchase.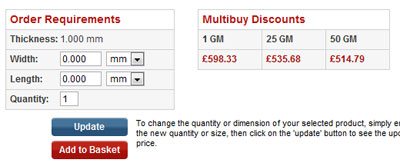 Step 2
Once happy with you product click the checkout button. Once in the check out screen select 'Collect for FREE' as your despatch method, then click the red checkout button.

Step 3
The next screen allows you to select which counter you wish to collect from, the date & time of collection. Select your desired options and then click submit to move to the next screen.
Step 4
The next screen will confirm the products available, and the collection address. Click the confirm button to move to the next screen.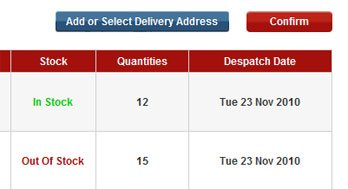 Step 5
To finally confirm you order click the large red button. This will place your order, provide you with an order number (starting with IO) and restate your collection time and counter. You will receive an e-mail order acknowledgement, simply bring this or the order number to the counter to collect and pay for your order.