According to Rachel Tierney writing for the Telegraph, this year's three main wedding jewellery trends are: vintage glamour, romantic florals and modern minimalism, each with their own distinctive style. Within this article we will look at these trends more closely, identifying the key features of each, which can then be applied to your own designs. So, if you have a wedding to design for this year or are getting married yourself, then look no further.
Vintage Glamour
Nothing says vintage glamour like a string of pearls, and they remain a firm favourite with brides as they have been for many years. The beauty of pearls is that they flatter all skin tones, thanks to their subtle lustre which tends to draw colour from their surroundings. In terms of styling, a single pearl hung as a pendant is a modern alternative to the traditional string. I particularly like more unusual shapes such as droplets, which have lovely proportions that hang beautifully, offering the perfect opportunity for matching earrings. Small droplet earrings with a little movement in particular are ideal for brides wanting understated sparkle.
However, you don't need to be limited to just white when thinking about your pearl jewellery. Pastel tones of blush and champagne are naturally occurring, and provide gentle warmth which will compliment both coloured and white gowns beautifully. This lovely multi-coloured string pictured below is available from Cooksongold (product code 61PL F078) and is a great alternative to white, incorporating a range of pastel tones including peach, lavender and silver-grey.

Cultured Pearls Fresh Water, 7-7.5mm, Multicoloured, 16″/40cm Length
Romantic Florals
Florals are another classic wedding motif which is often carried through into the lace of the dress, the hair adornments and of course the bouquet. In terms of jewellery, florals can be extremely intricate and highly detailed, and will appeal to those going for a more bohemian and romantic look – or alternatively those who want full on, show stopping glamour!

Left – Mother of Pearl White Small Carved Flower with Centre Drill Hole (61MP F003), Right – Swarovski Crystal Pack of 24 Bicone Beads, 4mm, Crystal AB (62SW 013X)
Both of the components pictured above would make a great starting point if you are looking to create your own floral themed piece. The mother of pearl flowers would make a pretty central feature for necklaces, tiaras or bracelets, and the Swarovski beads will add the sparkle when threaded onto silver or coloured wire which can also be matched to the colour of the brides dress.
Floral themes are perfect for introducing colour into your accessories, and many brides are opting for Sapphire coloured stones thanks to the influence of Kate Middleton. Blue stones also have the advantage of representing 'something blue' symbolising good luck for the happy couple, but there are really no rules when it comes to coloured flowers – you need be limited only by your imagination.
Modern Minimalism
Modern minimalism is perhaps the most unexpected theme for wedding jewellery this season, with an emphasis on clean lines and simple shapes which will be utilised long after the wedding is over. Looks to compliment a simple, elegant silhouette and minimalist pieces have a certain confidence, which often makes them a little bolder in design than some of the other trends featured.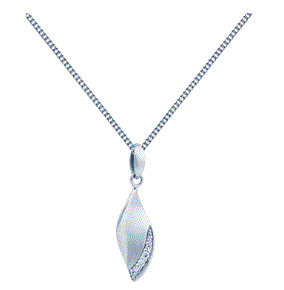 Sterling Silver Pendant, Leaf 5 Graduated White CZ (VPS 204)
The pendant pictured above is a perfect example of a minimalist piece which would compliment a simple neckline very well. You can team it with classic CZ or plain ball studs for understated elegance which will never date, or a solitaire pendant in a plain mount is another way to create this look. One with a concealed bail would also work well as the lines are then even cleaner. A stone of any colour can work in this instance as the simplicity of the mount will balance out any brighter tone you may want to choose.
The range of wedding jewellery themes for 2017 provide something for everyone, from the shy and retiring to the most outgoing of brides to be. So whether it is for yourself or your customers, keep things up to date by choosing vintage glamour, romantic florals or modern minimalist as your theme and ensure the jewellery for the big day doesn't grab the limelight for all the wrong reasons.
For even more inspiration when creating your jewellery designs for this year's wedding season, why not explore Cooksongold's full range of Finished Jewellery pieces which includes a stunning range of earrings, pendants, bracelets and much more.