Moissanite is something of a new phenomenon in the jewellery world, having been created and perfected by Charles and Colvard in the early 1990s. It is in fact a lab created version of a natural gem, which was discovered in 1893 by Henri Moissan who would go on to be a Nobel Prize winning scientist.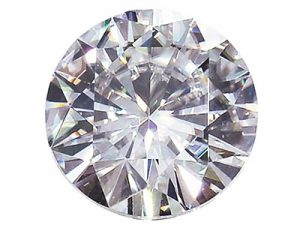 Moissanite available from Cooksongold
 The basis of Moissanite is silicon carbide, and it was discovered in fragments of rock which were buried deep in the deserts of Arizona at a site where a meteor was thought to have crashed thousands of years previously. Henri Moissan began studying these fragments and discovered that they contained extraordinary fire and brilliance, quite unparalleled by anything which had gone before. Unfortunately supplies of natural Moissanite were and still are in extremely limited supply, and so despite its extreme beauty and suitability for jewellery, it was simply not a viable option for the jewellery industry at that stage.
If you fast forward to the 1990s, the Moissanite baton was then picked up by Charles and Colvard, who after extensive research have become the only source of lab grown Moissanite crystals. It is they who produce the gems which are readily available on the market today.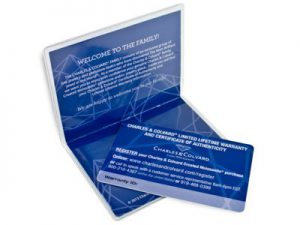 Certificate of Authenticity from the laboratory at Charles & Covard
So, why choose Moissanite over a Diamond or a Diamond substitute?
Charles and Colvard are very keen to stress that Moissanite is a gem in its own right and not a Diamond substitute, and therefore possesses its own unique properties. It is claimed that Moissanite has 2 and ½ times the dispersion of Diamonds, and it is this feature that creates that the amazing fire that consumers adore. In fact both the brilliance (refractive index) and the fire (dispersion) found in Moissanite are superior to Diamonds, which are reasons enough to select it over a similar equivalent.
However, the plus points don't end there. The durability of Moissanite is another positive feature, measuring 9 and ¼ on Mohs scale of hardness, second only to Diamonds. Stones can be cleaned in an ultrasonic and even cast in situ, thanks to its tough composition so it really is a great stone to work with.
But, what I find most interesting about Moissanite is its demographic which is very clearly defined on Charles and Colvards website. The typical Moissanite customer is a self purchasing female, over 40, looking to reward herself for her achievements. They also go as far as to suggest a typical average income for their customer base which for the record is not small! The root of all this very specific information I feel is to suggest that Moissanite is a choice for the well informed and accomplished lady, who wants good value but also good quality and good provenance. Your customers need to understand Moissanite to truly appreciate it, so from a sales perspective education is really the key to its success. If your customer wants value, then CZ is the choice for them; if they are purists and want Diamonds for the kudos and can afford them, then Moissanite is not for them. However, for the discerning customer who wants something between the two extremes and perhaps appreciates something a little left of centre, then that will be your typical Moissanite customer.
Moissanite may be a man-made gemstone but it has become a favoured alternative to Diamond for many jewellery makers. To experience using this stunning stone for yourself, why not discover the selection of Moissanite stones available at Cooksongold and add one to your next project?