Exhibitions and shows are a fantastic way to draw inspiration for your own work, whilst enjoying and maybe even buying other people's designs. We are very lucky in this country to have access to a diverse range of museums and galleries, who offer a constantly changing array of objects and images to stimulate the imagination. The UK also plays host to a vibrant circuit of selling exhibitions, which can be equally as fascinating and inspirational. I have put together a list of some of the best the country has to offer, in the hope it might tempt some of you away from those online resources.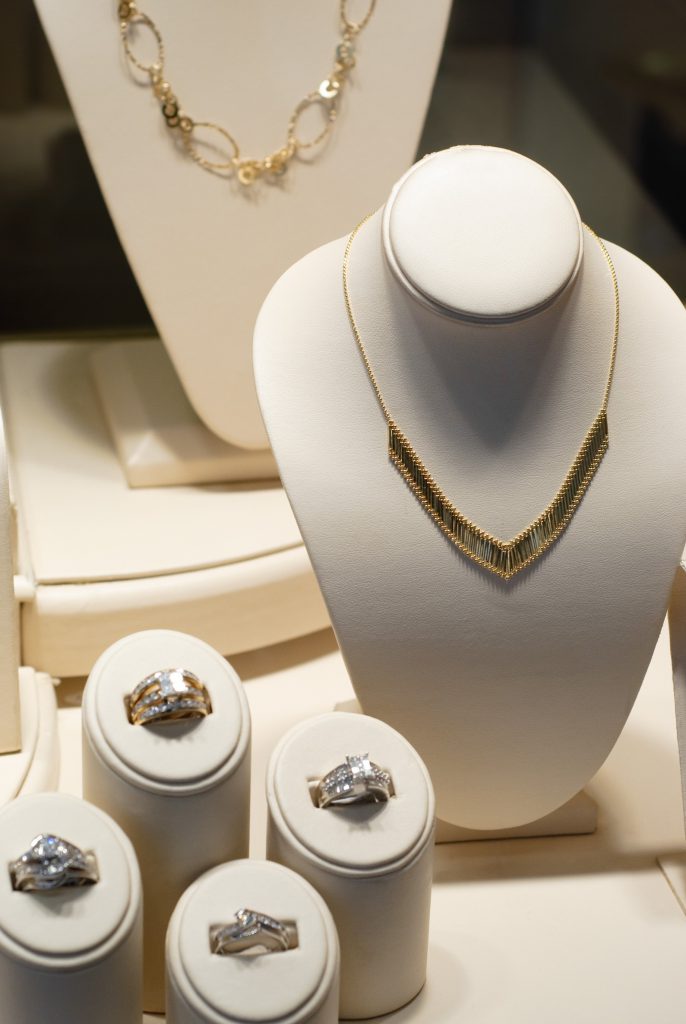 20:20 Visions: Celebrating 20 years of the ACJ
18/05/2017 – 30/06/2017
http://goldsmiths-centre.org/
 20:20 Visions has been organised by the Association for Contemporary Jewellery to mark its 20th Anniversary. It has invited 20 of its most innovative and exciting members to exhibit an item from circa 1997, alongside a new piece, and promises to be a fabulous showcase for both technique and technology by some of the best artists of their genre. The exhibition is being held at The Goldsmiths Centre in London, and is open Monday – Friday 9am-6pm with free admission.
Bloomin' Jewels: The Blossoming of the Floral in Contemporary Jewellery
27/04/2017 – 3/06/2017
http://caa.org.uk/exhibitions/2017/bloomin-jewels
 You need to be quick to catch this one as it finishes on the 3rd of June, but if like me you adore all things floral, this is an exhibition not to be missed. Hosted by Contemporary Applied Arts on Southwark Street in London, this is a selling exhibition from 20 contemporary jewellers who have been tasked with producing work with a botanical starting point. Contemporary jewellery and flora and fauna have not traditionally gone hand in hand, but this exhibition marks a fresh approach which will undoubtedly make fascinating viewing. Open Monday – Saturday, 10am – 6pm with free admission.
De Vroomen: Harmony in Colour and Form
12/04/2017 – 26/07/2017
https://www.thegoldsmiths.co.uk/
 This exhibition held at The Goldsmiths Company, Foster Lane in London, celebrates five decades of artistic and marital partnership between renowned jewellers, Leo and Ginnie de Vroomen. You will find over 100 pieces of jewellery on display alongside the preparatory sketches, giving an insight into the creative process which is intriguing. As well as this, there are vivid paintings by Ginnie based on her urban surroundings, which all add up to make interesting and inspiring viewing. The exhibition is open Monday – Wednesday, 10am-4pm and again admission is free.
The Staffordshire Hoard (Birmingham Museum and Art Gallery)
Permanent Exhibition
http://www.birminghammuseums.org.uk
 This is a must for anyone interested in historical jewellery. Discovered in 2009 in near Lichfield, the Staffordshire Hoard is the largest collection of Anglo-Saxon gold and silver jewellery ever to be found. Birmingham Museum is lucky enough to house 100s of objects from the 3500 strong collection along with Tamworth, Stoke-on Trent and a touring exhibition. The museum is open daily from 10am-5pm and admission is free, although donations are welcome.
International Jewellery London (IJL)
03/09 – 05/09/2017
http://www.jewellerylondon.com/
 If you are looking for trade contacts and suppliers, or are searching for a platform to sell to trade buyers, then the IJL show in London is one of the best places to start. It is not open to the general public and has a strict admission policy, allowing only trade/student/press visitors entry. You must pre-register online to avoid a hefty £25 admission charge, and your trade status must be verified by way of a business card etc. Once inside you will have access to tool, gem and jewellery suppliers, as well as a range of scheduled business and trend seminars all geared towards those in the jewellery industry. As a general rule suppliers are not looking to sell individual pieces at this show, they are instead looking for wholesale contacts and bulk orders with a view to building new business relationships.  There are however some exceptions to this rule and often the gem and stone suppliers will be happy to sell items from the stand, but be sure to ask first to avoid any confusion. The show is held at Olympia in London and is open Sunday 3rd September 10am-7pm, Monday 4th September 9am – 6pm and Tuesday 5th September 9am – 5pm.
Autumn Fair
03/09 – 05/09/2017
www.autumnfair.com
The biggest trade fair in the midlands for jewellery and gifts is the International Spring Fair, which is held at the NEC every February. It is a huge show which attracts thousands of UK and International visitors and exhibitors focused on gifts, home wares and jewellery. Although February has obviously passed this year, the organisers of the Spring Fair do run a smaller sister show in September, called the Autumn Fair.  It is a very mixed offering of goods, but it does play host to a number of jewellery suppliers looking for trade orders. These large trade shows are great places to access buyers en masse, but are also useful for ideas and inspiration. The admission policy is similar to the IJL in London and you will need to pre-register if possible, verifying your trade status. The show is open 9am – 6pm Sunday to Tuesday (3rd – 5th), and closes at 4pm on Wednesday (6th).
The popularity of beads has grown quite considerably in the past few years, and there are a number of small one day buying shows across the country organised to cater for this demand. They are normally quite casual events, with a range of exhibitors all looking to sell direct to the public. There are a huge number of these shows on the circuit once you start to investigate, and most will charge an admission fee of between £3 and £5 per person. Here are just a few examples:
The Scottish Bead Fair Perth
20/08/2017
Perth Concert Hall
Perth
Tel: 01738 630740
The New Forest Bead Fair
09/09/2017
Brockenhurst Village Hall
New Forest District
Tel: 07474 727916
Beads Up North
01/10/2017
Haydock Park Racecourse
Newton-le-Willows
Tel: 01254 236049
Cheltenham Rock Gem n Bead Show
04/11 – 05/11/2017
Cheltenham Racecourse
Prestbury
Tel: 07540 133627
Don't forget, if you are thinking of attending a fair or show this year then Cooksongold's Craft Fair Calendar is a great resource for you see other upcoming shows. Download your free copy here to help you plan ahead.