Thursday, May 3rd, 2012
This book has been reviewed by Joanna Varney.  She holds a BA (Hons) in Jewellery and Silversmithing and is part of the Cooksongold team.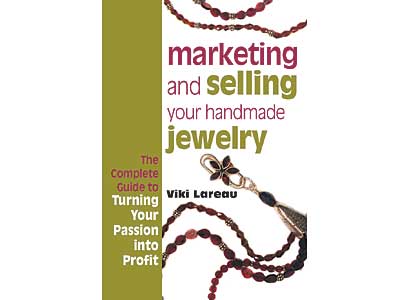 My initial thoughts when first opening this book were:

1. It's based on the American market

2. It is focusing on Bead Jewellery rather than Fine Jewellery

DON'T LET THIS PUT YOU OFF!!!!!

My rather naive idea that this would not be relevant to me was quickly dispelled as I got stuck into Chapter one – First Steps. I can't stress enough how good this first chapter is. It is packed with fantastic, down to earth advice which I feel every person considering starting their own creative business would benefit from reading! In fact there are questions posed that the self employed craftsperson needs to be reminded of again and again to ensure a successful business.
For example:  'The Lifestyle – Are you cut out for it?'
'Defining your style of Jewellery'
'Who is your Customer?'
These are vital, practical questions which need to be addressed before embarking on any new venture. They help to take you away from the emotional side of a creative business (which can sometimes be difficult) to focus on the aspects which can sometimes be overlooked. For instance, the fact that you will spend more time marketing, promoting, selling, accounting etc etc your jewellery, than you will actually spend making and designing it! This was something I did not fully appreciate until I was actually doing it! It's rather a disheartening prospect but it is reality and you have to be prepared for it.
Lareau then moves on to discuss, 'Building Your Portfolio' which is perhaps a more obvious starting point for most people as it is a seemingly 'nice' task. She stresses the importance of creating a style and theme which will appeal to your 'target customer'. Again great advice, and again something which many would not appreciate when first starting out. It's far too easy to design a logo or motif which looks nice, but would be completely unrelated to your 'target customer'.
As I read through each chapter I found I was picking up invaluable tips left, right and centre. In fact I've come across a few business mantras that will, without doubt be going up on the workshop wall!
The guide to pricing work is again extremely practical. Despite some of the terminology being aimed at the US market, it is still entirely suitable for the UK and gives a much more realistic approach than I was given at University. Lareau also explains clearly the difference between wholesale and retail pricing which again, is vital to get right if you are to look professional.
Throughout this book, Lareau pulls her readers sharply back into reality, providing focus and direction in bite sized chunks. The chapters are short and easy to absorb, written in plain English (American) and are easily transferable between different types of creative industries. I would say that this book is a vital read for anyone considering starting their own creative business.  I would also recommend it to anyone whose existing business has perhaps lost a little focus. The chapters will help you to reassess and evaluate your market position, take stock of your situation and strip things back to basics which we all need to do from time to time. All in all, a great read.
Click here to purchase your copy!