Tuesday, September 21st, 2010
This week treat yourself with some of the most exquisite GEMSTONES from Cooksongold! A good reason to buy: we have them NOW on sale!! You get 10% OFF and the possibility to choose from over 420 beautiful gems available!! You're going to love our variety: we have around 30 stones and they come in more than 15 sizes!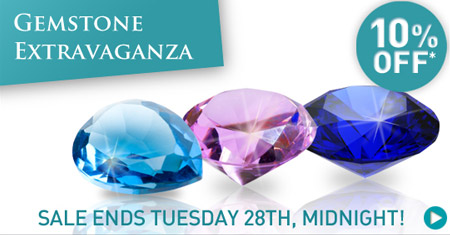 Gemstones are fun for both beginners and more experienced jewellers!  However, if this is your first encounter with gems here are a few facts and tips you might find useful before you start.
When just starting to work with stones, it is recommended to use large stones (cabochons) since it will be easier to make settings for them.
Beginners find it easier and more fun to work with the following stones:
We have them all at Cooksongold in great variety … and many more too! So hurry up and grab this great deal before it ends on Tuesday, the 28th of September at Midnight!!
And since you dropped by why not subscribe to our blog? Just hit the subscribe button at the bottom of this page and you'll never miss another great deal again!! We will also make sure to offer you some great hints and tips and keep you up-to-date with the latest news!