W Durston Ltd is a leading British manufacturer of quality tools to the jewellery industry. Their original area of focus was rolling mills, but more recently they have expanded the range to include more forming tools such as disc cutters and dapping sets, along with more general purpose items such as benches and pegs which have proved to be extremely popular here at Cooksongold.
Formed in 1961 and based in Buckinghamshire, Durston is one of Cooksongold's long established brands, and has built up a strong reputation for quality and innovation which has been recognised not only nationally but internationally – having received no less than three awards for their international trade achievements, along with rave reviews from our customers.

The success of their products lies in the precision engineering applied to every component they manufacture. Everything is produced in-house giving Durston full control over the quality of each product they send out, and it shows. To give you an example, a Durston Rolling Mill has rollers which are "induction hardened to a depth of 6mm, ensuring your rolls will last a lifetime" (www.durston.co.uk). This is not a quality that all brands of rolling mill can boast of, and definitely helps to set Durston ahead of their competitors. Alongside this all Durston Rolling Mills use a reduction gearbox, giving either 4-1 or 5-1 reduction for guaranteed efficiency and an ultra smooth operation.
Interestingly, the sheer quality of Durston products means that they do actually seem to hold their market value. So, if you are wavering over the decision of whether to buy or not to buy, you may well be comforted by this information; an investment which can hold its value is always going to be a good choice! Recognising that not every pocket can accommodate the cost or in fact the requirement for a rolling mill, Durston have now diversified and today produce a wide and varied range of tools and equipment geared towards the jewellery industry.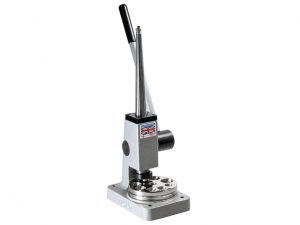 Durston Ring Stretcher (product code 999 7159)
Manufactured with the same infamous quality, Durston Doming Sets in particular have become one of the top selling items within the range here at Cooksongold and another customer favourite is the Durston Ring Stretcher, which has received some fantastic reviews online such as:
"I own many Durston products…great quality and have never let me down" – Robert, USA
Cooksongold are also delighted to be able to introduce a selection of newer Durston items to complement our existing range. It is an eclectic mix of products which may interest those of you who previously thought that Durston was out of your price range.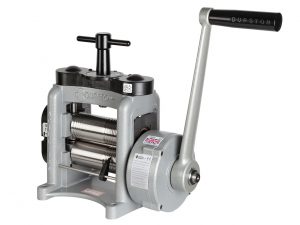 Durston Agile C130 Combination Rolling Mill (product code 999 HACA)
At the top end of the scale we have innovative new Agile Rolling Mills which combines tried and trusted features with a new slimmed down frame, featuring a lighter weight t-bar instead of the traditional heavier turning wheel to provide a more cost effective option. Conversely we also have a range of workshop basics such as bench pegs, mandrels, soldering boards and even an apron, which means that you can now have Durston quality items scattered liberally around your workshop to improve all aspects of your working area (not forgetting the Durston workbench itself which is also available in various different sizes).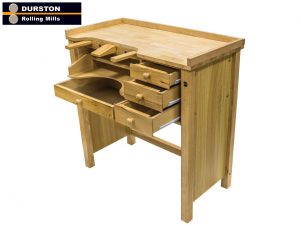 Durston Jewellers Workbench (999 7169)
So if you are looking to improve or upgrade your tools, Durston could well be the brand for you. Their reputation for quality speaks for itself, and you may well be surprised at some of the more affordable options now available with our range.
Explore Cooksongold's full selection of high quality Durston products, from larger workshop machinery to a complementary range of workbench tools and accessories, by clicking here.