By Nicky Moxey
I was offered the chance to have a play with the following aluminium blanks for metal stamping, and this is the result: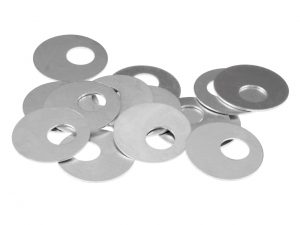 ImpressArt Aluminium Blanks, Round Offset Washer
I have half a dozen of the ImpressArt Design Stamps, and have enjoyed using them on my favourite medium, fine copper sheet – but it had never occurred to me to use them on the ImpressArt aluminium blanks range! Which is pretty dumb, if you think of it, as they are literally made for each other…
The first thing I noticed is how nicely finished all these shapes are, and how sturdy they feel. I started off with the round offset washers (above), popped one on my steel block, and lined up the first stamp that came to hand; a heart. Sometimes it can take a couple of blows to get a good impression on copper, but a single firm tap was enough to put a pretty little heart on the aluminium washer. I put a row of three of them on another washer, just for the pleasure of it. Sometimes when I'm texturing copper, I end up with a blank that can only be described as misshapen and wavy – but how would these aluminium blanks react to a lot of impressions? I got a third blank, and went mad. Result! A washer covered in hearts, but still in its original shape!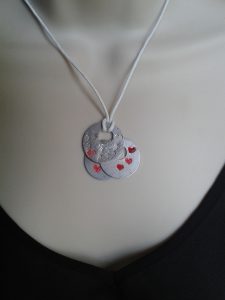 I tried another stamp on a few of the leaf shaped blanks, because they are a smaller, more delicate shape than the washer – would they end up misshapen? Not a bit of it! What's more, the stamp was such fun to play with, with several impressions making a lovely abstract design. Just to restore a bit of minimalism, I put a single spiral impression on a couple of the small tag shaped blanks, which then would be ideal to turn into a pair of earrings. I thought a bit of colour would be nice, so I got out my Efcolor enamels. How would they look when used on the aluminium blanks? Only one way to find out…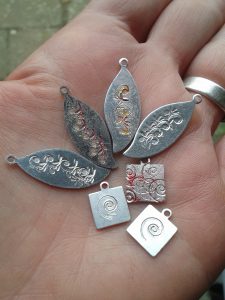 Overall, I was really impressed with how pleasant these blanks are to use, and how versatile they are. I'm sure I'm going to have a lot of fun with them, and at their price point, it's not going to hammer my wallet!
There are even more shapes and sizes available in Cooksongold's range of ImpressArt aluminium blanks, perfect for metal stamping and for Efcolor enamelling projects. Why not explore our full selection today and get creative?