Wire Working – 10% OFF Sterling Silver Round Wire for a week ONLY!
A great offer is back THIS WEEK ONLY at Cookson Gold:  10% OFF Sterling Silver Round Wire from the 15th to the 21st of February. This promotion offers 43 varieties for you to choose from including our best sellers: 1mm, 0.5mm and 2mm!  Hurry up and STOCK UP NOW! Expires midnight on the 21st of February!
Cooksongold will cut wire to fit your requirements and this comes fully annealed (soft state). You will need to familiarise yourself with two basic techniques for using wire: cutting and bending, which are fundamental to any project you will undertake.
Purchasing a drawplate is a very good investment in your workshop as this is a long lasting tool that will help you alter every size and shape of wire. The drawplate is a tool made of steel with holes of decreasing sizes that should be used in conjunction with a set of pliers called draw tongs. When using it, mount it on a bench vise with the holes being used close to the vise. File a gradual taper onto the last half inch of the wire and poke it through the largest hole of the drawplate. Use the tongs to pull the wire through the plate and move down the line through the smaller holes till you reach the desired size. Throughout the process, try to keep the wire perpendicular to the drawplate. The wire may require annealing (regular heating to maintain malleability) after 4- 5 holes.
Bending Wire: this can be done with your fingers; however, if you require more leverage, use a set of pliers that will match your desired blend. You can find a list of the right pliers to use in our previous article, here.
Making Jump Rings: use round nose pliers; hold the wire at the place along the pliers for the size of ring you want, bend the wire with your fingers and finish by cutting the wire with end cutters.
Making a Wire Spiral: the wire spiral can be used as a decorative catch or as a detail on any other piece of jewellery you made. Firstly, hold the end of the wire length with your pliers are bend it around the pliers whilst rotating the pliers. Once you have the beginning of the spiral, release it from the pliers and continue to bend the wire with your fingers. Finish the spiral with a hook and use it to decorate your artwork.
Other shapes easy to achieve include: heart shape (use 1.2mm wire), zigzag  (1mm for fine shape; 2mm for chunky shape), earwire (0.8mm).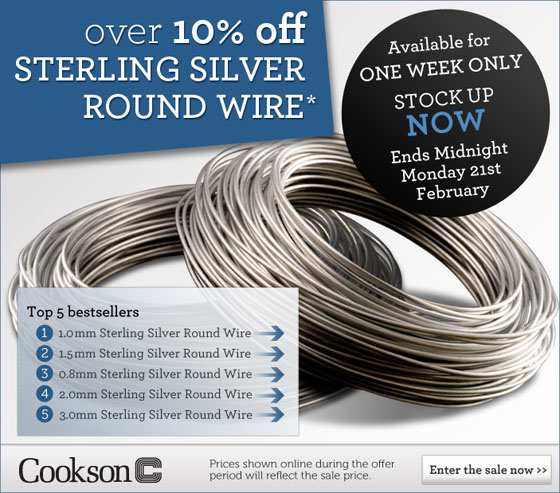 Tags: round wire, silver round wire, silver wire, sterling silver wire, wire offer, wire tools