by Jo Varney
'Wubbers…..Funny name, serious tools'
Ok, I will admit that when I first came across the 'Wubbers' brand I did have to do a double take. Wubbers, really? It sounds like something my three year old would talk about! However once you get past the bizarre name, what you discover is range of jewellery pliers which have been specifically designed for 'shaping, coiling, wrapping wire and sheet metal'. They are intended for the sole use of jewellers and are not simply an off shoot from the electronics or engineering industries, which makes a refreshing change and shows in the finished product!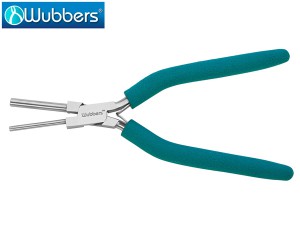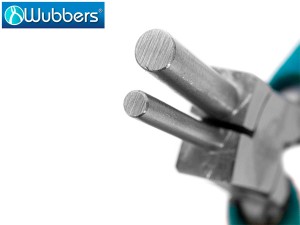 Essentially Wubbers pliers function like a mini-mandrel and enable you to consistently shape and manipulate wire or sheet with a minimum of effort. The handles are unusually long to provide extra leverage, which subsequently makes them much more comfortable to use. They are securely padded and sprung, again adding to the usability. You will notice that the jaws of the pliers are also abnormally long (32mm in fact) and parallel as opposed to tapered, giving you a large and even surface area to work with which is great.
The particular pliers shown above are described as 'Medium Bail Making Pliers'. 'Medium' refers to the size of the jaws (3mm and 5mm) but also has a bearing on the size of material used. There is a guide on the packaging which is as follows:
Wubbers Size Small = 16 gauge or finer wire and 24 gauge dead soft sheet
Wubbers Size Medium = 14 gauge or finer wire and 22 gauge dead soft sheet
Wubbers Size Large, X-Large and Jumbo = 12 gauge or finer wire and 20 gauge dead soft sheet
The term 'Bail Making' simply refers to one of the functions these pliers can fulfil so don't be misled by this. As I'm sure you can see this is a multi-functional tool suitable for making 'even coils, perfect jump rings, consistent s-links and uniform bails', to name but a few. They would also be perfect for any small scale sheet bending and shaping tasks.
When I tried these pliers out I found the grip of the handles to be excellent leaving you free to manipulate your material with your other hand with ease. These long handles really do work exceptionally well, giving you perfect control with minimal marking of your material. The jaws are well engineered which results in a fine and consistent finish and the extra length means you can make more pieces in one go, without having to snip off and start again. They would be perfect for anyone who does a lot of chain making.
I can appreciate that the cost of these pliers may put a few people off, but please rest assured that they are so much more than just pliers. The versatility and quality of these Wubbers tools will ensure that you are reaching for them time after time, and I guarantee that you will soon wonder how you ever managed without them!
To see our full range of Wubbers and add one to your jewellery tools collection, visit this page on the Cooksongold website now.