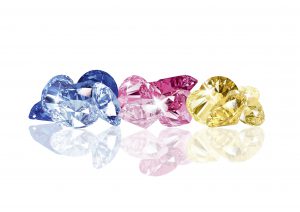 The team at Cooksongold is pleased to share our exciting new range of Swarovski Genuine Gemstones and Created Stones!
The established Swarovski brand solidifies the expert and high quality requirements that are so important to Cooksongold's stock, allowing us to help you create beautiful jewellery, time and time again. Discover more about our new range of Swarovski Genuine Gemstones and Created Stones below.
About Swarovski Gemstones™
Swarovski Gemstones™ is a leading stone manufacturer, specialising in precision-cut gemstones and created stones. With a collection made from the purest raw materials, Swarovski provides a unique range in the gemstone market which not only symbolises purity but also high quality. With a consistency and quality unlike any other brand, Swarovski Genuine Gemstones and Created Stones are the perfect addition to your latest jewellery designs.
Swarovski began cutting genuine gemstones in 1965, followed by created stones in the early 1970s. Cooksongold aims to offer you the unique vitality of Swarovski Genuine Gemstones, helping you to produce new pieces in an original and exciting way. Fuel your creativity with our range of Swarovski Genuine Gemstones and Created Stones – available in varying colours, cuts, and sizes at Cooksongold.
Why choose Swarovski®?
Premium quality – by cutting and polishing stones meticulously, Swarovski offers a quality like no other which brings out the full intensity of natural light.
Less breakage – using high quality raw materials, Swarovski Stones are as sturdy as they are eye-catching.
More efficiency – the strict calibration method ensures that all stones are identical, meaning size tolerances are kept to minimum, and heights, diameters and girdles are uniform.
Swarovski® Gemstones Available At Cooksongold
 Swarovski® Zirconia
Introducing Swarovski® Zirconia. Made using precision cut technology, this stone is the perfect centre for any jewellery project. Durable, high quality stones with a dazzling shine, the Zirconia is unique in its ability to demonstrate a clean-cut professional finish yet still obtain eye-catching properties. The creative spirit of Swarovski is easily found in the Zirconia range with the full intensity of natural light, brought straight to the surface of the stone.
Our Swarovski® Zirconia Stones are colour-matched and ready-to-set with guaranteed technical and perfect cutting. Unique in character and in quality, our selection of natural brilliance cut Zirconia stones solidify the true character of the stone, while demonstrating only the finest quality with fresh, clean-cut colour consistency.
Swarovski® Nano
The Swarovski Nano– cut and polished to perfection, these stones are the perfect addition to the Zirconia colour assortment. From Ocean Grey to London Blue, our range caters for your preferred colour scheme and the high quality materials you require for your customers. Explore our selection today to choose the best Nano stone to suit your latest design.
Swarovski® Genuine Topaz
Discover Swarovski's genuine Topaz gemstone. Naturally white and pure in colour, these stones have been expertly cut and polished to create the perfect gemstone for your next jewellery project. With saturated colour enhancement, the unique gemstones are put through a unique Thermal Colour Fusion process to transform them into a wide range of stunning colours.
Making it unique from others on the market, the Swarovski Genuine Topaz contains no radiation, due to its unique colouration process. From Aqua Blue to Baby Pink, our range caters for all your jewellery gemstone needs, allowing you to create beautiful coloured jewellery for every one of your designs.
Swarovski® Genuine Marcasite
Derived from the finest iron pyrite, the Genuine Marcasite is finished using precision cut technology, bringing the stone to life with a stunning shine. With the use of the pyrite mineral contributing to the development of this stone, gemstone and metal are both combined to create the Marcasite. With an elegant, shimmering finish, the stone is the perfect accompaniment for your next elaborate ring collection or unique pendant projects.
Available in a range of cuts including round cut, square cut, baguette cut, and more, you'll be able to create a distinct range for your customers. Design your next jewellery collection with the Swarovski Genuine Marcasite in mind for an instant boost to your jewellery making portfolio.
Swarovski® Genuine Spinel
With the Swarovski Genuine Spinel, expect a natural stone with impressive durability. Derived from ancient Sanskrit, the primary liturgical language of Hinduism, Spinel is thought of as the daughter of Ruby, a naturally occurring stone. The Spinel is now a recommended gift for a 22nd wedding anniversary – the ideal gift with its high quality shine and expertly cut features.
Choose Swarovski® Genuine Gemstones and Created Stones
Using first-class materials to create a blend of expert craftsmanship and distinctive cuts is key for a designer using gemstones as the centrepiece of their designs. The natural beauty of the Swarovski stone will be a welcome addition to your latest collections – explore the range of cuts, colours, shapes and sizes to find the perfect style for your signature designs.
Learn more about our range of Swarovski Genuine Gemstones and Created Stones today and find the next distinguishing look for your jewellery designs.