Patriotic and Proud!
At this moment in time, the levels of patriotism throughout the country appear to be at an all time high. The bunting is out and the union jacks are everywhere as us Brits get ready to celebrate. 2012 is the momentous year that we are not only hosting the greatest games on earth, The Olympics, but we also mark our Queens Diamond Jubilee as she celebrates 60 years on the throne. The build up to the Olympics is well and truly underway, but the parties really start next weekend, as up and down the country street parties and events are planned to celebrate the Diamond Jubilee. This is a year that we will remember and fortunately as jewellers and silversmiths we are perfectly placed to provide those little mementos that people will treasure for years to come.
Queen Elizabeth II is only the second British Monarch to reign for 60 years alongside Queen Victoria who reigned for 63 years and to mark this special occasion the Assay Office have issued a commemorative hallmark which can be struck until 1st October this year. The mark is optional and can be struck alongside the statutory hallmark by all four hallmarking offices across the country. I can't imagine why anyone wouldn't want this mark added to their work. Depicting a young Queen wearing an oversized crown, and placed in a diamond shape, it will really help to elevate each piece to another level.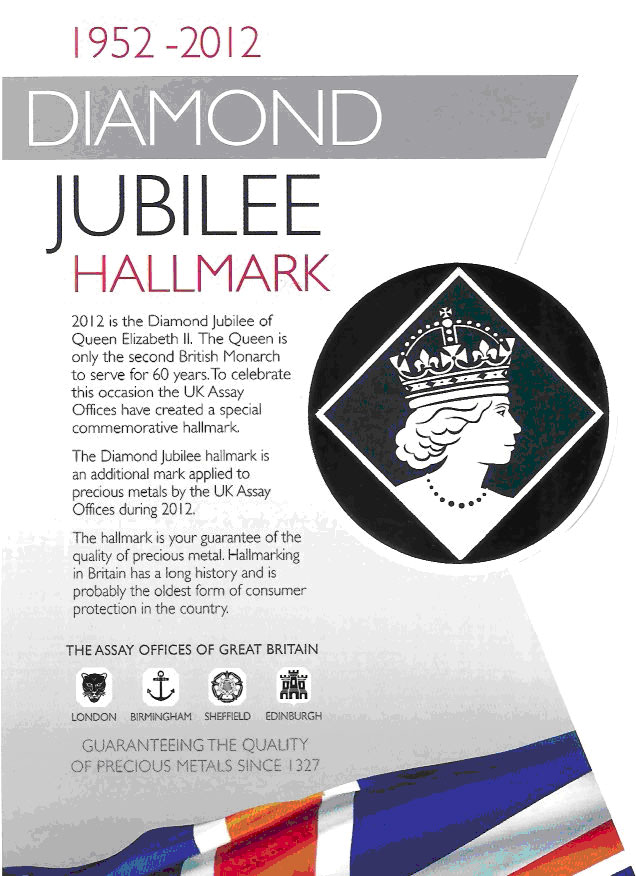 These special commemorative marks don't come along too often and to date there have only ever been five others: one to celebrate the Silver Jubilee of King George V in 1935, one to mark the Coronation of Queen Elizabeth II in 1953, one to mark The Queens Silver Jubilee in 1977, one to mark the Millennium in 2000 and finally the Queen's Golden Jubilee in 2002. So you have to consider how many others there may or may not be in your lifetime. Do any of us really want to miss out on this opportunity to own a little piece of history?? Speaking as a consumer, I don't consider myself to be particularly patriotic, but even I have purchased two commemorative silver bars for my children as I want them to them to remember such historic events.
There is really no other industry that offers what  is the oldest form of consumer protection.  Assaying and Hallmarking can be traced back as far as 1327 and has truly withstood the test of time to provide customers with a guarantee of authenticity. Now more than ever consumers need to be sure of what they are buying. Precious metal is expensive and disposable incomes are a little bit tighter for many at the moment. However, Britain has much to be proud of this year and we want to celebrate. Make the most of this limited opportunity and use this fantastic mark. Fill your customers with patriotism and ensure they don't leave empty handed!
Tags: diamond jubilee, hallmark, hallmarking, jubilee, patriotic, queen's jubilee