Equipment focus: Bending metals
Bending metal is one of the basic jewellery techniques which every jeweller comes across in the designing process. Mastering this technique is crucial in order to avoid damaging your piece's surface.  Before setting to use this technique, acquaint yourself with the following tools:
1. Mallets
If you are looking to bend your metal without marking it, make use of mallets – nylon and rawhide are very suitable. Mallets are flat shaped and used in forming ring shanks and bangles.
How to make a ring shank
To shape your metal into a wire or band rings use a mandrel and a mallet. Use a vice to secure the mandrel and place your metal horizontally across it – a third of the way up the vice's end. It is easier to start bending the metal to a smaller diameter than needed as it is easier to extend the diameter than to decrease its size. Use the mallet to hit the wire where it stops making contact with the mandrel. This will curve the wire. Continue this by moving the wire forward across the mandrel and remember to always keep the straight portion horizontally. Bend a third of the length and turn the piece around to bend the other end.
To adjust the form, place your piece on a wooden surface and tap with the mallet. Solder your piece before adjusting it into a perfectly round ring shape.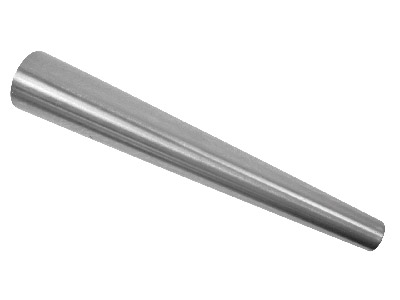 2. Hammers
Steel hammers can be used in a similar way to bend your metal and make the process a lot quicker than mallets. They will however stretch your design and make it thinner. Unless you are using a texturing hammer, using a hammer to bend your metal will leave marks that need to be removed.
3. Triblets, mandrels and stakes
These are tools that will also help you shape your metal. They are usually made from steel, but you will also find wood and nylon tools.
Note: keeping these tools in a good condition is essential to avoid damaging your metal.
DO regularly anneal and clean the entire surface of the metal that you are working on.
DO NOT: use a stake that has been hit with a steel hammer as this will mark it. The mark will be transferred onto your metal.
Use water or acid on steel tools as they can be easily damaged and repairing this is an extensive process.
4. Pliers
These are used for bending wire, strips and sheet metal and holding small items you are working with. There are a few types of pliers, which will help you fulfil different tasks. Use your pliers carefully as they can easily damage soft metals. By using nylon jaw pliers you can decrease the change of this happening; or simply wrap masking tape around your pliers' jaws.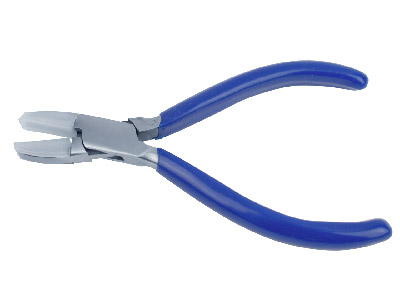 Depending on what you are trying to achieve you will also need: round-nose, flat-nose and parallel pliers. They will help you give different shapes to your metal, adjust shapes or straighten and increase curves. Parallel pliers are particularly useful when making fine adjustments to forms (e.g. bending angles) but most type of pliers will provide good leverage.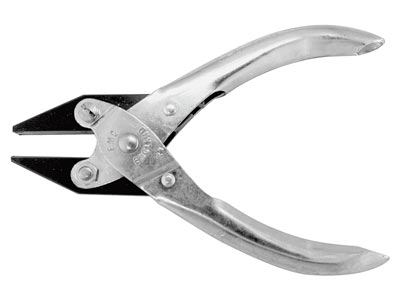 For thick wire use a mallet. It is difficult to bend using pliers without causing damage even if the wire has been annealed beforehand.
If at the end you are not completely satisfied with your forming, you can flatten and straighten your material and start again. For best results, you should anneal your pieces. In order to do this, a rawhide mallet should be used on a steel surface and any textured surfaces should be protected with masking tape.
With the convex curve uppermost, you need to place the metal on the block. You then need to mallet inwards from the edges, continuing to do so until the sheet is flat again and repeat if required. In some cases,you will need to pass the sheet through the rolling mill several times.
Annealed wire can be straightened between two flat steel plates, or tapped with a mallet. If your wire is lengthy, use a vice and pull hard on the end with pliers or use draw plates.
Tags: hammer, mallet, mandrel, nylon jaw pliers, pliers, texturing hammer, triblet, wire