The Complete Metalsmith by Tim McCreight
This book has been reviewed by Joanna Varney.  She holds a BA (Hons) in Jewellery and Silversmithing and is part of the Cooksongold team.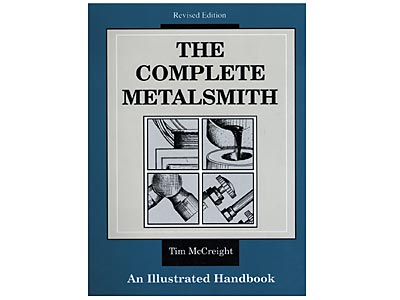 (This book is available as either a student or professional edition. This review is based on the student edition.)
Described as a 'handbook' this text is an excellent workshop companion to all those currently studying or embarking on a career in jewellery and metalwork. The author Tim McCreight is a working metalsmith and professor and therefore has vast experience in his field, instinctively knowing what to include and perhaps more importantly, what to leave out! When dealing with such a broad subject it is easy to get bogged down in detail. McCreight doesn't do this and instead provides an overview of each subject area and is therefore able to cover much ground!
Divided into 8 chapters, he covers Materials, Surfaces, Shaping, Joining, Casting, Stones, Mechanisms and Tools. The information given is varied and quite surprising in places, including historical references and in the Stone section, magical properties which I wasn't expecting.  Most books deal purely with technical and factual information, so it's refreshing to have a more rounded synopsis of the subject. Where possible individual more complex subjects for example Mokume and Reticulation are dealt with on a single page. To attempt these techniques more instruction would be needed, but you are given a clear definition of what each process involves. Each chapter mixes basic and advanced techniques into one, so the subject is dealt with as a whole, not split into different difficulty levels as with other books. The emphasis really is on overview rather than depth of information. You could almost liken it to a detailed dictionary of techniques, tools and materials.
The book contains no colour pictures but instead uses numerous black and white line drawings. These are a little simplistic in places but are adequate in terms of explanation. They are only a guide after all (I understand the Professional edition contains colour photos).
The Reference section towards the back of the book really is excellent. It contains all the usual information expected such as Alloy details, comparative weight tables and conversion charts plus a whole lot more besides. McCreight includes some great safety advice on chemicals and compounds, geometry formulas for working out the area of material needed for a job, as well as stone, saw blade and drill size details. It really is extremely comprehensive and gives you all you would need to accurately plan, prepare and price a job. It's fantastic to have all those invaluable references in one place.
I also particularly like the Tool chapter which is written with an obvious empathy of the financial problems facing many students today. Let's face it, metalsmithing and jewellery making can be an extremely costly hobby or profession to get into, so McCreights tips on making your own tools and even your own workbench come as a refreshing change.  He's even gone as far to include a pull out page of stick on tabs to mark each chapter, plus a selection of different sized graph papers for planning. Even the binding has been done with the student in mind, (It is spiral bound so it will lay flat on a work bench and stay open at the desired page) making this an extremely practical, well thought out text.
With that in mind I would say that this book is an essential for any student, which is exactly the purpose for which it was intended. A great read!
To purchase your very own copy of Tim McCreight's The Complete Metalsmith- Click here!