Designer of the Month: Tom McDowell
Being the son of a jeweller, jewellery has always been a part of my life and something that I've been fond of.
I originally studied at Bucks New University as a metalworker but soon found I preferred the smaller scale of jewellery. I came out of my BA with a good skills set and a body of work that whilst looked good, wasn't something I felt passionately about. This influenced my decision to go on to do my MA at UCA Farnham where I would have the time to focus on a new set of designs that were more "me".
During this time I did a 1 day course in anodising aluminium, a process that makes the metal more durable but also allows it to be dyed vibrant colours and patterns. Having previously only worked in mainly silver I was keen to see what could be done with this new material.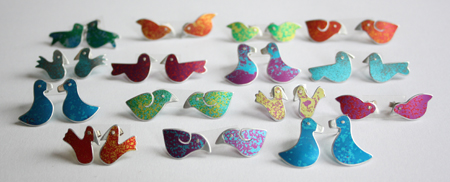 My ideas were based around ways of making people smile through the wearing of jewellery. As I also work in an after school club I fell in love with the drawings that children come up with.
I find that the way a child picks up on certain details and the quirkiness of their drawings are fantastic and aren't something that we as adults can easily replicate (I wish I could draw as well as some of these children!)
I particularly like their versions of animals and find that they are something that most people can relate to. As a result I based my range of jewellery on them by transforming these into wearable pieces. I combine the anodised aluminium with mixed media such as feathers to create something colourful and fun.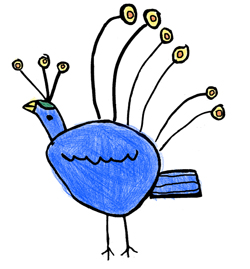 Pieces such as my peacock brooch are based off drawings that I did when I was a child. But I often have commissions from parents who want their own children's drawings turning into something they can wear.
Since graduating I was selected by the Designer Jewellers Group to exhibit with them as one of their 6 new designers at their winter exhibition at the Barbican. From that I won their Stephen Maer award which allowed me to become an associate member for another 2 years.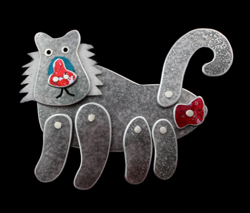 My work can currently be seen at the Barbican with the Designer Jewellers Group from 9th Nov to 6th Jan.
Contact details:
Phone: 07973770691
Email: info@TomMcDowellDesign.com
Web: www.TomMcDowellDesign.com
Facebook:
 http://www.facebook.com/pages/Tom-McDowell-Design/124983417549475