Julie McKenzie likes to make use of semi-precious stones in her designs, especially Koroit Opals which feature in her collection of cuff bangles. She shared a bit more about her time in jewellery making in the following Designer of the Month interview, including her top tips for running a successful jewellery business and more.
Let us know a bit about yourself, detailing your background, study and training in the jewellery making industry.
After 20+ years as a Director in the IT Industry, I decided to take an extended career break to look after my new son. My plan was always to return to my previously successful career, but it became very apparent that my values in life had changed and therefore this required a complete rethink.
I had always enjoyed being creative but had never attempted making any kind of jewellery. I decided it was a great opportunity to learn a completely new skill and as I loved silver I thought learning the art of working with silver would be perfect. I signed up for a one year Diploma Course in Creative Jewellery Design, with the London Jewellery School.
It was an amazing course, giving me the opportunity to try many new skills.  I used all of my spare time between lessons perfecting the skills being taught. I managed to achieve a Distinction in the Diploma in April 2016. During this time I also registered my Hallmark with Goldsmiths Assay Office and set up my own small business.
Tell us about your work – are there any particular materials or techniques that you favour?
I typically work with silver sheet to craft my designs. All my designs are individually handcrafted by hand piercing, forging, soldering and hand polishing. However, I have also used lost wax carving for a recent commission which was great fun.
I love the contrast of a high shine finish with colour. I therefore incorporate semi-precious stones and resin in some of my designs to achieve the look I'm aiming for.  My favourite semi-precious stones, which I am beginning to use more and more in my designs, are Labradorite and Opals including Boulder/Koroit Opals (below).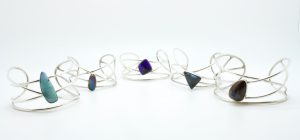 Koroit Opal Cuffs
I enjoy a challenge and love to experiment with new techniques and working out ways to achieve a bespoke commission. In addition to sterling silver, I also craft in metal clay for smaller textured pieces.
How would you best describe your design style?
Most of my designs are inspired by nature.  I am drawn to the shape and flow you find in the natural world. My design style uses a stones natural beauty to be the heart of a piece. I keep the silver lines simple, flowing and polished to a high shine in order to complement the stone and not 'overpower' it. My Trillium collection (below) and my Koroit cuffs (above) are typical of this style.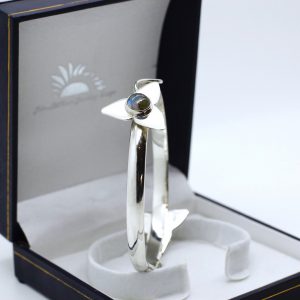 Trillium Bangle
In addition, I design silver and resin pieces which again use the simplicity of piercing natural imagery into silver and incorporating coloured resin to create an interesting contrast. In all my designs it is important I achieve a high quality finish – this finish is essential in order to achieve the clean simplicity I'm trying to create. This is obviously very time consuming when you are creating everything individually by hand, but incredibly satisfying.
As a jewellery maker, where do you like to get your inspiration from for your pieces?
Nature is my main inspiration – the shape, flow and colour.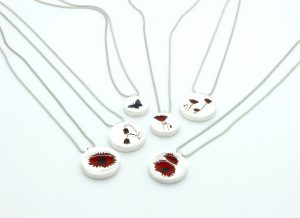 Nature inspired neckalces
I spend many hours looking through my son's nature books and searching the web for nature photography.
Do you have a piece that you have made which you favour or are particularly proud of?
There are a few pieces that I'm really proud of, my Trillium Choker is probably one of my favourites.
However, a recent commission for a cricket bat, stumps and ball was a real challenge as it was my first attempt using lost wax carving outside the jewellery school. I was really happy with the outcome and more importantly so was my customer.
What is the one item in your jewellery making workshop that you could not live without?
Hmm difficult to name one but either one of these would be difficult: piercing saw, file and Dremel pendant motor.
What upcoming trends do you see being popular soon?
I can see that CAD design and 3D printing will become more the norm for designing and making jewellery. I haven't tried either of these techniques but I can see that's the medium most of the new upcoming designers seem to be using.
In relation to wearing trends – I think over the next few years we will see a growing demand for 'smart' jewellery.  Beautiful pieces which link with your smart devices – moving away from the big plastic mass produced devices. This is beginning to happen now on a small scale but I can seeing this ending up a huge market opportunity.
What is the most valuable lesson you have learnt from your time in the jewellery making industry?
There are many people creating their own jewellery and it is quite a saturated market, with a lot of mass produced, machine-made cheap jewellery. Stay focussed on what you are doing, try not to compete on price with the mass produced products.  Not everyone values handmade over price but never under value your time. Instead, focus on finding the right market for your handcrafted pieces.
Don't expect lots of customers to suddenly appear online. You have to build your brand by getting out there personally… attending craft events, talking to people and word of mouth. You have to be a sales person as well as a maker!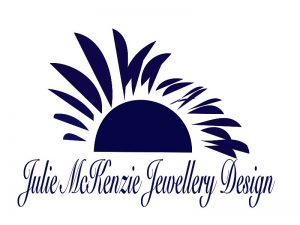 Make sure you stand out from the crowd – try to ensure you have a high quality finish, you have beautiful boxes and you provide excellent follow up and customer service. Word of mouth and follow on business is crucial.
Do you have any particular advice that you would give to up and coming jewellery designers, or someone interested in getting into jewellery making?
Spend time working out if you want to do this as a hobby to make a little extra money, or if you want to do this as a profit making business. If the latter – try to put together a realistic set up and running budget.  Talk to other designers to find out the essential items you need – everyone's view is different so talk to lots of people before you put together your shopping list and budget.
Build a contingency in your budget for 'mucking things up'! When trying a new technique or crafting a new design, it may not go quite according to plan.
Start using a business tool such as QuickBooks early on so you can keep a track of spend. It pulls info from PayPal, your bank, credit cards and Etsy, so you don't need to manually enter it. It is so easy to spend money on 'extra' materials and tools that you don't really need in the first year or two.
If you are working on commissions, always get a deposit to cover the materials in order to manage your cashflow.
…and finally, time for a bit of fun in our quick fire round! Tell us your favourite…
…gemstone – Opal
…city – Rome
…colour – blue
…drink – Champagne!
…biscuit – chocolate digestives
For more details on Julie's work, feel free to visit her website here or Etsy shop, or you can also stop by her Twitter, Facebook or Instagram pages.