Monday, August 20th, 2012
These bangles are a simple, elegant classic. They look great in a few different widths, or make a whole armful for real boho style.  For a slightly different take, here's how to make a trio; two x 2mm wide, one x 3mm wide and a small ring to bind them together. 
You will need:
2 x 22cm lengths of 2mm round sterling silver wire
1 x 22cm length of 3mm round sterling silver wire
1 x 4cm length of 3mm wire
Steel rule
Fine permanent marker
Borax cone and Dish
Pickle solution
Flat sided needle file
A ball peinor chasing hammer
Step One
Measure and mark 22cm lengths of your silver wire.  22cm will make a bangle of approximately 7cm diameter.   Cut using a piercing saw and file the ends flat with a needle file.   Smooth further with fine grade emery paper.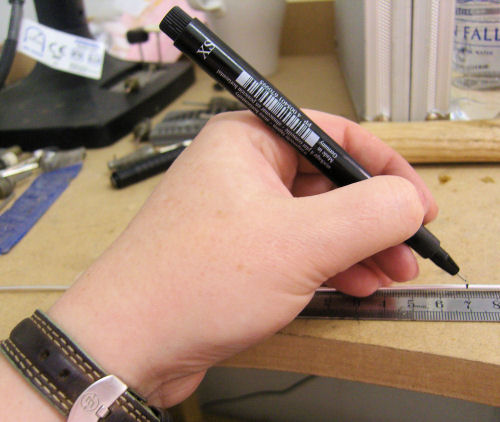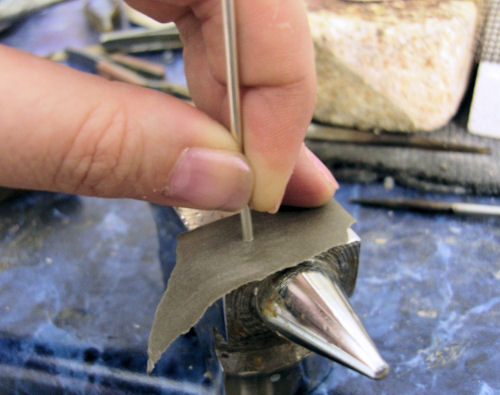 Step Two
Use half round pliers to bring the ends together neatly. Don't worry about it being a perfect circle at this stage, but do check that you have a good, tight join. File with a flat sided needle file if it isn't perfect at first!
Step Three
Flux the joint thoroughly, and apply a pallion of medium solder. Solder the ends of the bangle together, remembering to heat the whole bangle, before rocking the heart across the join when nearing the solder melting point.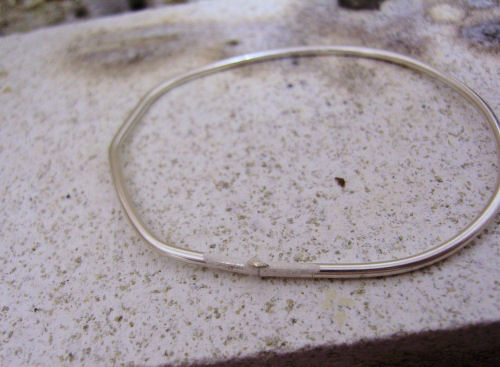 Step Four
Quench and pickle the bangle. Clean up the joint using emery paper.
Step Five
Place the bangle on your mandrel and hammer all the way around using a ball pein or chasing hammer. It's easiest and neatest to rotate the bangle, and keep your hammer at a steady angle.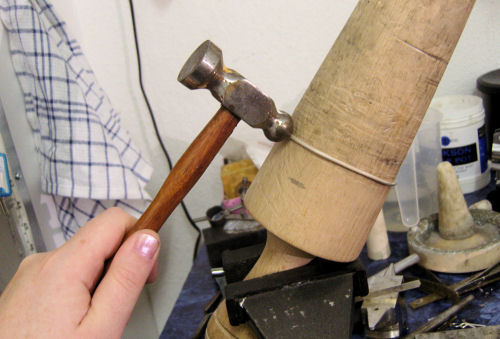 Place the bangle on a steel block or anvil, and hammer all around the side surface. Turn it over, and repeat.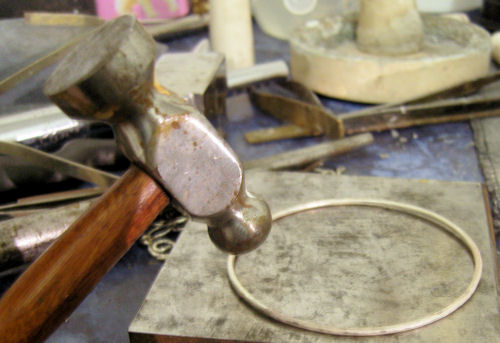 Repeat steps one to five with the other 2mm wire, and the 3mm wire until you have formed all three bangles.
Step 6 
Take your 4cm piece of 3mm round wire, and prepare exactly as you did for the bangles (steps one to four). This time, use easy solder.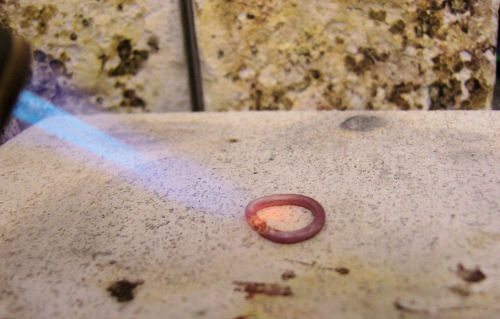 Form the small hammered ring around a ring or jump ring mandrel, and hammer the sides.
Step 7
Once it is perfectly round, use a piercing saw to cut through your solder join. This may sound odd, but it's the simplest way to ensure your binding ring is pefectly circular!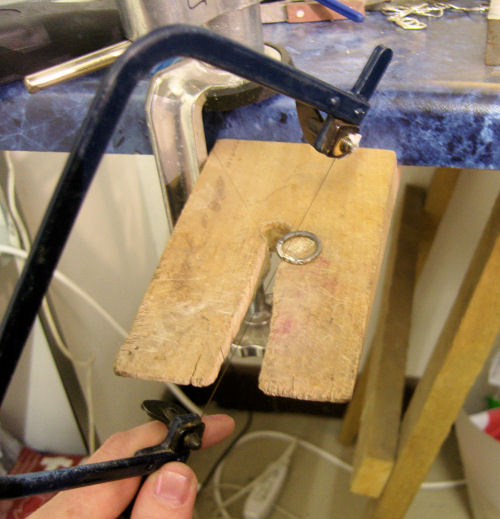 Step 8
Open the binding ring and place the bangles into it. Hold the ring up with soldering pliers and flux and apply easy solder. Alternatively, solder paste is excellent for jobs like this, as it's great for sticking in place. You won't need flux if using the paste, as it's included in the mix. Solder the join.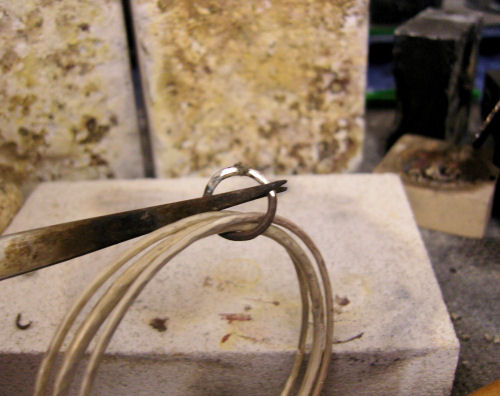 Step 9
Quench the whole piece, and clean the join of the binding ring. You may want to hammer the sides again to neaten it up.
Step 10
Pickle the whole piece, rinse and tumble polish well.
This will further work harden the bangles, as well as giving them a fantastic shine.