Monday, March 14th, 2011
This is a guest project designed by Carol Merkl. Carol runs the Coventry PMC Studio Accredited Training Centre where she offers a wide range of courses including PMC Certification. The article is part of our jewellery making projects collection and it is a step-by-step guide on how to make floral earrings using silver clay.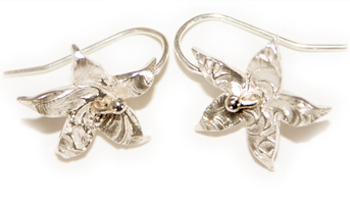 What you need:
Plastic measuring spoon
Paintbrush and cup of water
Step 1 – Texture
Rub some badger balm on your hands, roller and on the rubber texture mat. Remove the clay from the pack and place on a piece of Teflon or work mat. Place a spacer either side of the clay and use the roller to roll the clay. Press the rubber texture mat into the clay.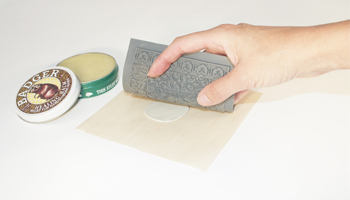 Step 2 – Shape
Use the calyx cutter to cut a flower shape. (Put any left-over clay back into the pack to keep it fresh.) Smooth the edges using a damp paintbrush. Rub some badger balm on the inside of a plastic measuring spoon and use a damp paintbrush to position the flower in the centre of the measuring spoon. Leave to dry. Repeat step 2 to make the second flower.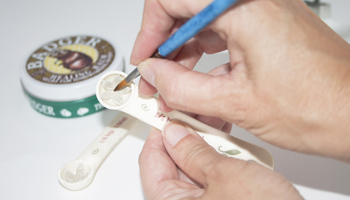 Step 3 – Hole
Gently sand the edges of the flower using the sandpaper. Place the flowers on the rubber block and use a hand drill to drill a hole in the centre. Make the hole about 10 per cent larger to allow for the shrinkage of the clay during firing.
Fire the earrings using a butane gas torch (they should glow a pale, orange colour for at least 2 minutes) or fire in a kiln at 600C for 10 minutes.
Tip: you may wish to use some kiln pillow to support the flowers during firing. Once fired, quench in a cup of water and dry.
Step 4 – Polish and finish
Place on a rubber block and polish using a stainless steel brush. Continue using a burnisher or place in a tumbler to achieve a high shine finish. To complete your earrings use a pair of pliers to attach the earring wires.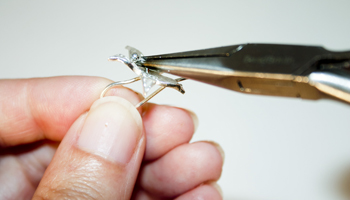 For details about Carol Merkl please visit www.1offstudio.com.
Did you like this article? Find it useful? If you want  to see any particular projects featured please leave a comment below.