Thank you for such amazing service. I ordered my beads yesterday and they arrived this morning, beautifully and professionally packaged and presented. I am so impressed with the speed and quality of your goods and services, that I would not hesitate to recommend you. A breath of fresh air!


Lesley Spencer

Top rate customer service team are always happy to advise on products. Fast, efficient deliveries with a website which is easy to negotiate and secure payment. Oh and lastly..... Fantastic range of supplies for making jewellery.


Evelyn Duffus

I was recommended by a friend to try out Cookson gold, and so I did and what a great find it is too. I've now ordered twice in the space of three weeks, the items were even better than on the website. The delivery is exceptional, the packaging is more than adequate. Thank you Cookson gold, I am never going to buy from anywhere else!!


Carol white
Durston 26 Piece Doming Set With Block & Carry Case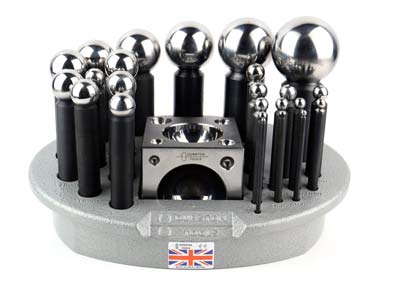 In Stock
Product Code : 999 7153
Catalogue Page : 502
£195.00
exc. VAT
£234.00
inc. VAT
High quality dapping set for the professional jeweller who demands the very best. All pieces in this set are hardened, ground and highly polished for perfect results. ... Read the full product description...
Durston 26 Piece Doming Set With Block & Carry Case - 999 7153
High quality dapping set for the professional jeweller who demands the very best. All pieces in this set are hardened, ground and highly polished for perfect results. Set comes with matching 65mm square dapping block with 26 full half spheres. All pieces fit into a unique plastic carrying tray. 24 Piece Punch Set - 3mm, 4mm, 5mm, 6mm, 7mm, 8mm, 9mm, 10mm, 11mm, 12mm, 13mm, 14mm, 15mm, 17mm, 19mm, 21mm, 23mm, 25mm, 28mm, 32mm, 36mm, 40mm, 45mm, 50mm.
Delivery
Delivery methods
We use fast and cost effective methods to ensure efficient and safe delivery of your order. We constantly review our carriers, and our delivery rates to ensure we offer a great delivery service at a competitive price.
All our items are despatched by a network of carriers including Royal Mail, DHL, Secure Mail (now known as DX Group), TNT & Fed Ex.
Our current despatch rate is 97% next day delivery, overseas orders are dispatched same day as receipt, but are dependant on courier delivery time, typically 2- 5 days (dependant on region).
We will do our best to despatch your order the same day, however for guaranteed same day despatch order before 3.00pm.
How we calculate our postage costs
The postage charge will vary depending on the weight & value of your goods, our online shopping basket always clearly displays the relevant postage options and postage costs for your basket.
Our postage costs start from the following:*
First class post- start from £2.20
Recorded delivery- start from £2.95
Next day delivery- cheapest starts from £5.25 with DHL
Hazardous goods- starts from £11
*Please note that these prices are too used as a guide only and may vary due to the weight and value of your parcel.
Do you accept International Orders ?
Cooksongold.com welcomes orders from all over the world, and currently deals with customers in over 50 countries.
Our delivery methods to International countries include:
Eire International (Irish International Registered Post)
International Registered Post
TNT International
FedEx
International postage prices vary depending on the weight and value of your goods, our online shopping basket always clearly displays the relevant postage options and postage costs for your basket.
If you are looking to order hazardous goods, please note that some carriers will not take these. If you want to purchase hazardous goods, please email your query to birmingham.sales@cooksongold.com. We will then be able to advise if this item can be sent to your country.
Can I order on-line and collect from our counters ?
You can now click & collect from our Birmingham Jewellery Quarter counter or our Hatton Garden Counter.
As you checkout simply select COLLECT in the delivery method box.
On the subsequent screens, you will be asked to select which counter you want to collect from and a pick up time.
The collection time is 2 hours from ordering if you are collecting from Hatton Garden or 1 hour collect time from Birmingham.
How do I return items?
Please return products to: The Returns Department, Cookson Precious Metals, 59 - 83 Vittoria Street, Birmingham, B1 3NZ
Include a covering letter stating your account / invoice number, the reason why you are returning i.e. un-required and what action you need i.e. credit and we can organise that for you.
If you are returning an item and you request for another product, then please be aware that a credit will be raised on the returned product. A new order will then be raised for the new product. If you pay for your orders using a credit or debit card, then we will contact you for payment.
Please contact our sales office to help process your returned goods quickly and efficiently. Click here to e-mail our sales office.
Returned goods will be credited if returned in their original condition, with the original invoice and/ or a covering letter
Goods accepted for return will be credited at the price on the date of invoice.
Goods returned for credit that were correctly supplied, may be subject to a handling charge.
Goods that are cut to your requirements i.e. sheet, wire, chain, etc, may be subject to a handling charge.
Sorry, but we are unable to cover the cost of return postage except where items are faulty or have been sent in error.
Part orders
Our on-line shop will highlight any out of stock items / part orders and provide you with three options. Simply choose one of these options as you checkout. The options are as follows:
I want my items quickly, please deliver all available stock items now, and send the remainder when available (at an additional postage cost.)*
Please group my items together and deliver all items on a nominate date (when all items are in stock)
Deliver all available stock, but forget about the balance/out of stock items.
* Please be aware that any items left on back order will be subject to an additional postage cost.
Great Product - 26 Jan 2012
by Jill Sanders
Having seen the other review I was a little hesitant however when it arrived and I started using it I was pleasantly surprised. I was pleased with the results and my tutor was impressed with the designs I created using the punches. It has a good range of diameters too
2 out of 2 people found this review useful

Poor Finish - 2 Sep 2011
by Joe Skaife
The one I received is really quite poor. The finish on the punches is mostly fair, but the larger punches have profound seams around the equators. The dapping block is especially poor with almost all of the holes showing visible marks and coarse machining and many of them barely polished at all. Not good value.
Cooksongold replies: We are sorry to hear that you have had a bad experience with the Durston Doming Set. We really appreciate customer feedback and your opinion is valuable to us. Therefore, since reading your comments, we have contacted our supplier reiterating the problems you have observed in order for them to review the product as the quality of products are of upmost importance to us and our suppliers. Durston is one of our most highly regarded brands that we stock and it is unusual that we experience many issues with quality therefore believe this to be an anomaly which both ourselves and Durston would be happy to rectify. However, they have ensured us that will not happen again due to their improved Quality Control and Assurance checks.
5 out of 15 people found this review useful
Impressive tool - 15 Jul 2011
by Figgypud
I am not a professional silversmith, but recently purchased this doming set to use at home. It is an impressive piece of kit, beautifully engineered and a great tool for shaping metal to high standards of quality and finish. The standcarrying tray keeps it all together and if you are feeling very strong makes it easy to move about. Fantastic quality, worth paying the extra money for - Im sure that, treated properly, it will last for several lifetimes.
6 out of 6 people found this review useful