Had a problem with a rolling mill that developed a crack Cookson's were brilliant sorting out a spare block to repace it Would not charge me, sent freepost That is what you call customer service


Alexander Keedens

Merry Christmas and a big thank you to all at Cooksonsgold for your competence and friendliness.


sue

The quality of the products, along with the service offered, is seconded to none.


Craig Stevens
Combination Rolling Mill, With 5 Rollers, Cookson Value Range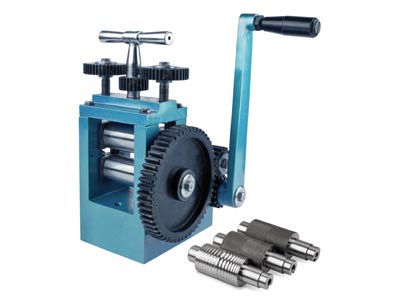 In Stock
Product Code : 999 AXWA
Catalogue Page : 441
Was : £167.00
Save : £25.05
Now : £141.95
£141.95
exc. VAT
£170.34
inc. VAT
Cookson VALUE jewellers rolling mill complete with 5 rollers - 2 smooth, 2 textured, 1 wire Roller size: 76mm x 41mm Sheet thickness: 3mm Sheet width: 70mm ... Read the full product description...
Combination Rolling Mill, With 5 Rollers, Cookson Value Range - 999 AXWA
Cookson VALUE jewellers rolling mill complete with 5 rollers - 2 smooth, 2 textured, 1 wire Roller size: 76mm x 41mm Sheet thickness: 3mm Sheet width: 70mm Wire capacity: 0.75mm to 5.75mm Gears: 3:1 Gear Ratio Wire & Pulley one roll: 6.75mm Maximum open roll: 4mm Rotation of Transporting: 0.86mm Net Weight: 17.3Kg. Gross Weight: 22.5Kg. Total size of mill (without handle): 190mm x 190mm x 290mm This rolling mill is part of the Cookson VALUE tools range which represents amazing value for money and are perfect for all types of work. Rolling Mill arrives from the manufacturer coated with a protective rust inhibitor substance Shipping items with this coating helps to prevent them from rusting. The coating is easy to remove; here's how to do it. Step 1 To remove the Cosmoline coating, wipe the tool with a paper towel or other disposable absorbent material. This alone should be enough to leave the tool feeling clean and usable. Step 2 If some substance still remains on the tool, use a small amount of kerosene or paint thinner on a clean paper towel or other disposable absorbent material to
Delivery
Delivery methods
We use fast and cost effective methods to ensure efficient and safe delivery of your order. We constantly review our carriers, and our delivery rates to ensure we offer a great delivery service at a competitive price.
All our items are despatched by a network of carriers including Royal Mail, Yodel, Secure Mail (now known as DX Group), TNT, Fed Ex and DHL.
Our current despatch rate is 97% next day delivery, overseas orders are dispatched same day as receipt, but are dependant on courier delivery time, typically 2- 5 days (dependant on region).
We will do our best to despatch your order the same day, however for guaranteed same day despatch order before 3.00pm.
If you want to track your parcel, please call 0845 100 1122. Please note that our trackable services are Royal Mail Special Delivery, DX Group, Yodel, TNT, FedEx and DHL. Parcels that are sent First Class Post and Recorded Delivery can not be tracked.
How we calculate our postage costs
The postage charge will vary depending on the weight & value of your goods, our online shopping basket always clearly displays the relevant postage options and postage costs for your basket.
Our postage costs start from the following:*
First class post- start from £3.15
Recorded delivery- start from £4.15
Next day delivery- cheapest starts from £6.25 with Yodel
Hazardous goods- starts from £11
*Please note that these prices are too used as a guide only and may vary due to the weight and value of your parcel.
Do you accept International Orders ?
Cooksongold.com welcomes orders from all over the world, and currently deals with customers in over 50 countries.
Our delivery methods to International countries include:
Eire International (Irish International Registered Post)
International Registered Post
TNT International
FedEx
DHL
International postage prices vary depending on the weight and value of your goods, our online shopping basket always clearly displays the relevant postage options and postage costs for your basket.
If you are looking to order hazardous goods, please note that some carriers will not take these. If you want to purchase hazardous goods, please email your query to birmingham.sales@cooksongold.com. We will then be able to advise if this item can be sent to your country.
Can I order on-line and collect from our counters ?
You can now click & collect from our Birmingham Jewellery Quarter counter or our Hatton Garden Counter.
As you checkout simply select COLLECT in the delivery method box.
On the subsequent screens, you will be asked to select which counter you want to collect from and a pick up time.
The collection time is 2 hours from ordering if you are collecting from Hatton Garden or 1 hour collect time from Birmingham.
How do I return items?
Please return products to: The Returns Department, Cookson Precious Metals, 59 - 83 Vittoria Street, Birmingham, B1 3NZ
Include a covering letter stating your account / invoice number, the reason why you are returning i.e. un-required and what action you need i.e. credit and we can organise that for you.
If you are returning an item and you request for another product, then please be aware that a credit will be raised on the returned product. A new order will then be raised for the new product. If you pay for your orders using a credit or debit card, then we will contact you for payment.
Please contact our sales office to help process your returned goods quickly and efficiently. Click here to e-mail our sales office.
Returned goods will be credited if returned in their original condition, with the original invoice and/ or a covering letter
Goods accepted for return will be credited at the price on the date of invoice.
Goods returned for credit that were correctly supplied, may be subject to a handling charge.
Goods that are cut to your requirements i.e. sheet, wire, chain, etc, may be subject to a handling charge.
Sorry, but we are unable to cover the cost of return postage except where items are faulty or have been sent in error.
Part orders
Our on-line shop will highlight any out of stock items / part orders and provide you with three options. Simply choose one of these options as you checkout. The options are as follows:
I want my items quickly, please deliver all available stock items now, and send the remainder when available (at an additional postage cost.)*
Please group my items together and deliver all items on a nominate date (when all items are in stock)
Deliver all available stock, but forget about the balance/out of stock items.
* Please be aware that any items left on back order will be subject to an additional postage cost.
| | |
| --- | --- |
| Width: | 190mm |
| Depth: | 190mm |
| Height: | 290mm |
| Weight: | 23000.000 GM |
You get what you pay for - 25 Nov 2013
by LORRAINE MACK
I have found it useful, but I would agree with the other reviews that say it is quite crudely engineered and I half wish I had invested in a Durston instead for the longer term.
1 out of 1 people found this review useful
Cheap but not cheerful - 25 Dec 2012
by Barbara Southall
If you are looking for something to texture flat metal or just thin metal or solder this product will suit your needs. Setting up was straightforward with the downloaded instructions and I even managed to change the rollers though it is messy and something of a palaver to do with the instructions for this being unclear. I worked it out but had to take the hammer to the block that fits the cog on the side and eventually I had a different roller in. I melted down some old silver and poured it into a skillet so I had a long piece of silver to roller. For some reason it curls the silver as you roll it. Therefore I now have the textured roller in and it does a good job on my flat silver but it still curls. It thins the solder nicely too. If you can bear to spend upwards of Â400 on a Durston then dont hesitate because it will knock spots of this otherwise if you are on a budget accept that you get what you pay for. Its a cheap price for a reason and not because it is a bargain.
21 out of 22 people found this review useful
keep a grinding wheel handy. - 27 Jan 2012
by Alexandra Twin
Its definitely sturdy and you get a lot of metal for your money but it was a budget item for good reason. Once I had de-greased it I had to take it apart and grind one of the cogs teeth down so that it could turn without getting stuck. The holes for screwing the mill down are in an awkward position and changing the rollers one of which was really pitted and scratched is a real palaver. On the plus side it does come with two sets of changeable rollers and you dont need an engineering degree to adjust it
16 out of 16 people found this review useful
I love it - 8 Jan 2012
by Jenny Newcombe
I got mine in Dec 11 but have only just started to use it, i think its fab, did what its supposed to do and u cant complain about that, its a real bargin and all i had to do was put the handles on, comes with some nice patterend mills too 0
7 out of 8 people found this review useful

better than no mill - 25 Aug 2011
by Nicholas Prior
A lot of metal for not much money, but the crude engineering lets it down. Making it very difficult to change rollers for example. I have never used one of these machines before, but now I see why this one is cheap and all the others makes are expensive. I think with some work it will suffice to learn to use a rolling mill, but I cannot help thinking I wish I could afford a European made machine.
22 out of 32 people found this review useful